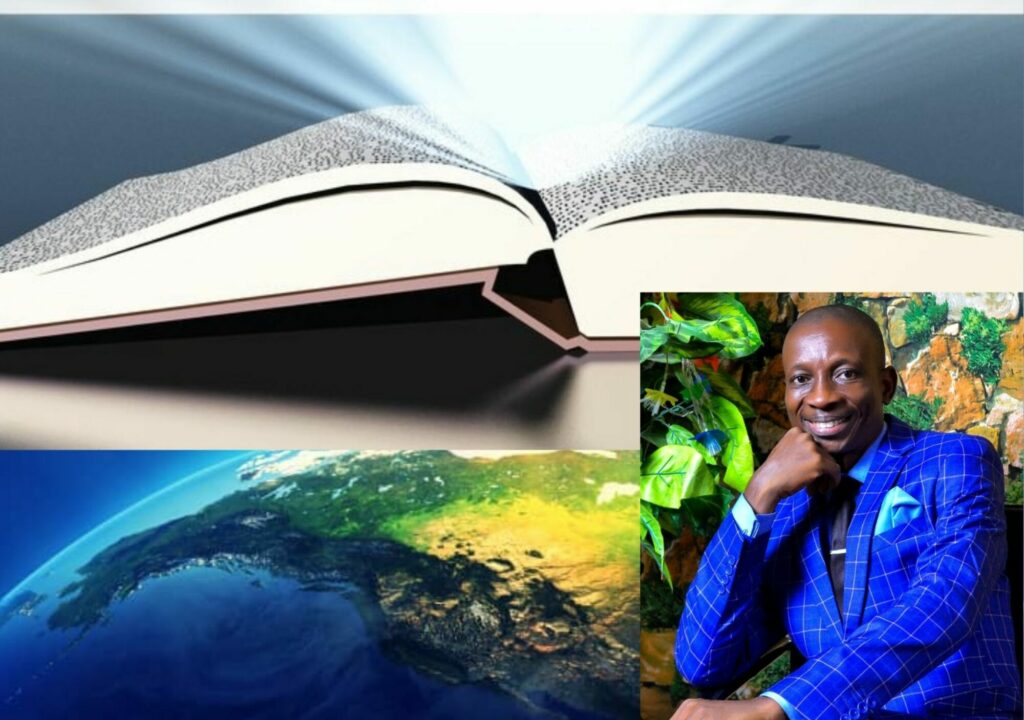 Our two-day teaching on "Superlative Glory" was based on "Beyond Superlative Glory" before I received another revelation on the new topic: "NEW LEVEL OF SUPERLATIVE GLORY". The first topic, if not handled carefully, may culminate in error of interpretation. The second one is more of eschatological than reality and, if not handled carefully, it will lead to fallacies of logic. And the third topic is not narrow but more encompassing and enriching. In other words, the first two topics can be discussed within the framework of the third topic. With this in mind, this piece will employ the "NEW LEVEL OF SUPERLATIVE GLORY" to avoid theological blunders that the two topics may cause. Reasons for this are made manifest in this write-up.
Whenever we attempt to describe the indescribable God, we discover that the words we have in our vocabulary are adequately inadequate (intentional use of words) to convey what we are trying to say. Obviously, the vocabulary of any language, world over, is limited to describe a great God, the uncreated Creator. To say the truth, a creature like man, the highest form of living creature on the earth though, is an infinitesimal speck to describe God or His glory. This is because the finitude cannot describe the infinitude. However, God can inspire His children to have an inkling of His glory through Christ Jesus and by the power of Holy Spirit by allowing His light to shine in their hearts so as to receive the light of the knowledge of His glory – God's glory: 
For God, who commanded the light to shine out of darkness, hath shined in our hearts, to give the light of the knowledge of the glory of God in the face of Jesus Christ(2Cor.4:6)
The underpinning truth now is that we cannot fully comprehend God; we can only see in a mirror or glass dimly until when we see Him face to face in His glory:
For now we see through a glass, darkly; but then face to face: now I know in part; but then shall I know even as also I am known (1Cor.13:12)
But we all, with open face beholding as in a glass the glory of the Lord, are changed into the same image from glory to glory, even as by the Spirit of the Lord (2Cor.3:18)
In this piece, three major questions will be answered: what is superlative glory? What is new level of superlative glory? And what is beyond new level of superlative glory?
Explanation of Terms
There are four key words in this topic that need clarification to enhance our understanding of this teaching: new, level, superlative, and glory. Here, new means current or recent. Level means position or stage or phase in this context. When we talk about superlative, this word is the form of an adjective used to compare three or more things. The superlative form of an adjective is used to show something has quality to the greatest degree or it denotes the highest degree of the quality.  While the word glory, which is the major thrust of this piece, cannot be pinned down to a single definition or meaning because of its polymorphic nature. However, the writer spotlights this word under different rubrics to understand the nitty-gritty of the topic at hand.
The Biblical Concept of Glory
The word "glory" as earlier mentioned is not a nebulous word but a polymorphous biblical concept that is very difficult to pin down to a single definition. The use of this word in the Bible shows that "glory" is a wide ranging concept or subject that includes a broad variety of nuances. Thus, any attempt to pin it down to a single meaning will lead to what is called errors of interpretation. No doubt, this word is used by everyone almost every day and assumes to know. Though a lovely and beautiful word, it is very difficult and complex to define and study. Professor Thomas Rohm compares glory to a diamond with its many mesmerizing facets. He said "Studying glory from scripture is somewhat like peering at a diamond in the noonday sun: it is dazzling, and it can be puzzling…" Thus, this writer will work around this word with particular attention to the topic at hand.
Basic Truths about GLORY
Glory as light of God
Glory as God's manifest presence
Glory is visible
Glory of men or things can be compared (we can talk of superlative here)
Glory of God is matchless, you cannot compare it with/to anything (Superlative does not apply here; the Glory itself is superlative or excellent, or surpassing – 2Pet.1:17)
Every child of God is a glory of God (Isa.43:7)
Everyone is created with at least a glory
Glory differs (1Cor.15:41)
God is the Father of glory (Eph.1:17)
10 God is the giver of glory (2Pet.1:17)
11 Glory of the Lord is everywhere.
What is Superlative Glory?
This is the highest form of glory. Though limited to human beings and things in comparison, comparing God's superlative glory to and / or with His creation or handy work is an error. Therefore, God's glory, which is the highest form of glory, is incomparable. Examples of superlative glory that can be compared can be found in the Bible.
The Glory of the Sun is Superlative
The Glory of the Sun can be compared with and / or to that of the Moon and Stars. Even among the stars glory differs from one another. The glory of one star is different from another star – stars are not equal in glory. In other words, in brightness, stars are better than each other. In the galaxy of stars one will be brightest. The brightest one is superlative in glory. In the Book of Genesis, in the fourth day of God's creation, two great lights, including the stars (the third light), were made by God. Indeed, God declares that one is greater than another in glory: both in function and brightness:
14 And God said, Let there be lights in the firmament of the heaven to divide the day from the night; and let them be for signs, and for seasons, and for days, and years: 15 And let them be for lights in the firmament of the heaven to give light upon the earth: and it was so. 16 And God made two great lights; the greater light to rule the day, and the lesser light to rule the night: he made the stars also. 17 And God set them in the firmament of the heaven to give light upon the earth, 18 And to rule over the day and over the night, and to divide the light from the darkness: and God saw that it was good. 19 And the evening and the morning were the fourth day (Gen.1:14-19)
The glory of the sun is greater than the glory of the moon, and that of the stars. Of course, it is crystal clear that the glory of the moon is greater than that of the stars. Comparatively, among these three glories, with no need of any prophet, therefore, it is very clear that the glory of the sun is superlative. In 1Cor.15:41, Paul the Apostle also made reference to these three glories (lights): 
There is one glory of the sun, and another glory of the moon, and another glory of the stars: for one star differeth from another star in glory.
Joseph's Glory is Superlative: Glory bows for Glory; Glory serves Glory
We can also observe in Gen.37:5-10 that other lesser glories can bow for greater ones. From this passage, we discover that Joseph's glory is superlative compared to other glories in the family:
5 And Joseph dreamed a dream, and he told it his brethren: and they hated him yet the more. 6 And he said unto them, Hear, I pray you, this dream which I have dreamed: 7 For, behold, we were binding sheaves in the field, and, lo, my sheaf arose, and also stood upright; and, behold, your sheaves stood round about, and made obeisance to my sheaf. 8 And his brethren said to him, Shalt thou indeed reign over us? or shalt thou indeed have dominion over us? And they hated him yet the more for his dreams, and for his words. 9 And he dreamed yet another dream, and told it his brethren, and said, Behold, I have dreamed a dream more; and, behold, the sun and the moon and the eleven stars made obeisance to me. 10 And he told it to his father, and to his brethren: and his father rebuked him, and said unto him, What is this dream that thou hast dreamed? Shall I and thy mother and thy brethren indeed come to bow down ourselves to thee to the earth?
Prayer:
Father, give me the glory that other glories will bow for.
Father, give me glory that other glories will serve.
What is New Level of Superlative Glory?
 Whatever level of glory you are now, whether the level of the glory of the star, the moon, or the sun, you still need a new level of glory. It is possible to experience a new level of superlative glory if you allow the glory of God to radiate in your life. How can one move to a new level of superlative glory? The Book of Isaiah chapter 60 has an answer to this.
When you are operating on the new level of superlative glory, you will experience the following:
1 The Gentiles will come to your light, and kings to the brightness of your new rising 
2 You will have many spiritual children all over the world  
3 The abundance of the sea will be converted to you 
4 The forces of the Gentiles will come to you 
5 People from different nations of the world will come to you with many gifts and praise your God.
6 The gate of your house will continually open day and night with blessings.
7 Gentles and their kings will bring gifts to you
8 Any nation and kingdom that will not serve you will perish; and they will be utterly wasted
9 The glory of Lebanon shall come unto you (Glory bowing for glory or glory serving glory)
10 Those who despised you shall bow themselves down at the soles of your feet.
11 God will make you an eternal excellency, and a joy of many generations.
12 You will eat from the abundance of the Gentiles and kings
13 Violence shall no more be heard in your land, wasting nor destruction within your borders. 
14 Your walls shall be salvation and gates praises.
What is "Beyond New Level of Superlative Glory"?
This question is, though, more eschatological than the present reality, you can experience "Beyond New Level of Superlative Glory" when you are a child of God. This is only made available by God for His children to experience eternally. However, the Book of Isaiah gives us an inkling of this:
19 The sun shall be no more thy light by day; neither for brightness shall the moon give light unto thee: but the LORD shall be unto thee an everlasting light, and thy God thy glory. 20 Thy sun shall no more go down; neither shall thy moon withdraw itself: for the LORD shall be thine everlasting light, and the days of thy mourning shall be ended. 21 Thy people also shall be all righteous: they shall inherit the land for ever, the branch of my planting, the work of my hands, that I may be glorified. 22 A little one shall become a thousand, and a small one a strong nation: I the LORD will hasten it in his time (Isa 60:19-22)
TO BE CONTINUED…
NOTE: By God's grace, this will be explained in great details in our next piece on this topic.